The two seat Octodecacopter (pictured below), created by inventors in Germany, has lived to see another day. Scaled up from the kind of RC helicopter a person flies around their living room, the Octodecacopter continues to pass its flight tests.
According to Wired, "A German company has developed and flown a scaled-up version of the electric quadcopters normally seen darting around parks and fields, but this version will carry two people and could fly for up to an hour.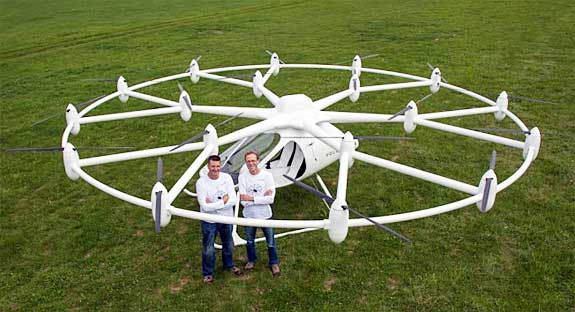 "E-volo's new model has made "multiple flights lasting several minutes" according to the company, including flights to 22 meters (limited by flying indoors). The VC200 uses carbon fiber and 18 separate motors and propellers powered by multiple batteries for redundancy."
So, next year if promoters can get Octomom to fly Octodecacopter for Octoberfest, we think throngs of people will show up for this. Ach du liebe Zeit!