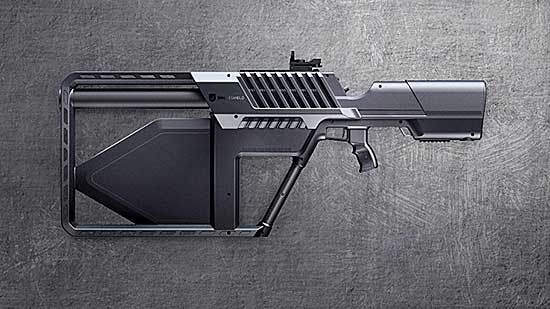 There are varying views on drones. Users obviously have their reasons for flying one, be it for recreational purposes or something to do with their job. For bystanders, they can be objects of delight or pure annoyances. It's the latter that the DroneGun Tactical deals with. However, it's not a device intended to be in the hands of regular citizens.
Let's face it, there are some irresponsible drone owners. There are certain rules to be followed in order to fly such a craft; you might even need to get a permit to fly in some areas. But the reckless side of the drone-flying population continues to not adhere to such regulations. A company in Australia, DroneShield, has created a solution to solve the issue.
For a few years now DroneShield has been showcasing what their DroneGun can do. What it is, essentially, is a high-powered antenna that can overpower the offending drone's own antenna – so much so that the controller can't get instructions through. If a drone meets a situation like this, it either attempts to land safely or return to a known location (assuming the GPS is still functional).
While all that sounds rather fine in terms of "punishing" a transgressing aircraft, the DroneGun isn't a convenient thing to carry around. It looks like a rifle gun but one that needs a backpack, batteries, and other components.
If you thought that is big, wait until you see the DroneGun Tactical. Sure, only renders have been put out but a physical model has been made. The Tactical measures 56 inches long, 18 inches tall, and 8 inches wide. This time, there is no pack to go with it.
With its enlarged size comes more sophisticated features. According to DroneShield, their Tactical can put down a drone that is more than a kilometer away. But in order to achieve that, a user must be within line of sight of the drone. This is needed because a drone can very well be up in the air in to time should it re-establish connection with its controller.
Battery life has also been improved with the Tactical. It can manage about an hour or maybe even two of drone scrambling. A GPS blocker can even be purchased to ensure that the transgressing craft stays down rather than flies home.
All this sounds good in the name of maintaining order in the skies. How many times have we read articles about the dangers of drones hitting actual airplanes? There was even that one time where it actually hit a passenger aircraft. But ordinary citizens can't take the law into their own hands with the help of the Tactical; it has not been approved by the FCC for use in the US.
That means it is illegal for a regular citizen to operate a device like the Tactical. However, government agents are allowed use it. That isn't a surprise given the Tactical was developed after "comprehensive international military end-user trials."